Project Management Modeling (PMM) is a Patent Pending Process developed by Trilogy Partners used to dramatically improve the design and construction process. PMM is a collaborative, multi-disciplinary client centric project management platform. PMM enhances design and value while reducing construction cost by imposing organizational technology during design which enables a significantly more efficient construction result. Architects, Engineers, Interior Designers, Builders, and clients all contribute to the PMM process as team members. Project Management Modeling (PMM), simply described, is the process of building the structure in a unified 3-D virtual design environment including all elements and specifications. The PMM model is ALSO the primary project management and supervision platform for the entire project because it contains information specifically targeted and tailored to promote sound project management and supervision.. For this reason,  PMM is a more highly evolved form of what is commonly described as "Building Information Modeling (BIM).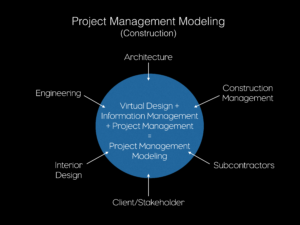 PMM brings all the disciplines necessary to design and build a home to a common platform, the PMM model. The architect, engineer, interior designer, contractor and client are all "at home" in the virtual model, using the model as a supreme design, communication, estimating, supervision, and construction resource. Because the PMM model is a product of collaboration and teamwork, and because it is also incredibly detailed and documented, the PMM model provides an excellent "proof of concept" for the design. PMM is not only an enhanced design strategy, it is also a proven cost reduction strategy. This is the way of the future and Trilogy Partners is excited to be leading the way.
Here are a few highlights of client benefits from utilizing the PMM process:
The PMM model is the complete instruction set for the construction process, serving clients, builders, and subcontractors
During design, PMM introduces exhilarating and gratifying real time Design Modeling sessions. Clients participate in person or remotely as the design team explores concepts, forms, and materials as directed by the client. Design is FUN!
The PMM model is an incredibly detailed Supervision Resource, reducing costly on-site supervision and speeding the construction process.
PMM Models are Geo-located virtual models so that the client understands the siting and view potential of the structure.
PMM models include Solar and energy studies to help maintain home operate efficiently and predictably.
PMM models are accurate to scale and unified to any additional construction documents
Interior design is completed using the PMM model as a virtual show room for the selection of all finishes and furnishing. The model is an accurate representative of all finishes and furnishings. Exacting attention to the model insures that the client will know exactly how the finished home will look. Virtual shopping eliminates the need to repeatedly visit brick and mortar show rooms.
The Model allows for the precise estimation of materials, from lumber, to siding, to flooring, providing more accurate price estimates than the standard model "paper" estimating process.
The process allows for enhanced creativity and customization. PMM allows us to design bespoke elements that are distinctly personal, water features, lighting, furnishings, railings and fireplaces. Anything, in minutes not hours, as a standard part of the design process. Anything the client or the design team can imagine, we can draw and specify in the computer and prep for production.
Engineering and architecture are vetted in pre-construction analysis to prevent change orders, and costly errors and time delays during construction.
Subcontractors have extensive access to the PMM model dramatically improving and reducing on-site errors and omissions.
PMM substantial improves clarity and understanding between all parties, while it successfully manages expectations.
PMM models are always available and accessible to the client, builders, and subcontractors, viewable on a computer, smartphone, or tablet.
PMM Models are an invaluable "What You See Is What You Get" resource for anyone and everyone involved in the process.
PMM Models are so detail rich that after construction, the PMM model becomes the owners manual for the home, containing information and website links to each and every appliance, electrical device, material, etc!
Explore some of our PMM models here and here. Check out the Trilogy Partners Youtube channel for more videos!