The design of the Steamboat House merged Japanese and American Western ideals. The main house was a mix of two cultures. But behind the main house, just a little ways up the hill and surrounded by aspen and live oak trees, we built an authentic Japanese Tea House based on a design by Trey Parker, the home owner and creator of the South Park television series.
The Tea House consists of a main living area that is separated from the rest of the home by sliding shoji paper screens. Tatami mats are used as floor coverings. This room serves the function of living room, dining room, and bedroom. At night the table and chairs are moved to a closet and a futon is brought out for Japanese style sleeping.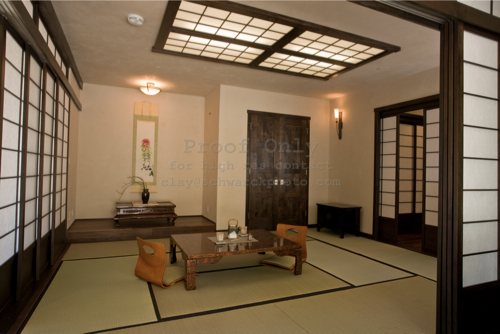 The Tea House, though small, has a full kitchen. The cabinetry was hand made in Steamboat Springs by Steamboat Woodworks.
The bathroom includes a bathing room with teak floors, a Japanese Style Soaking Tub, and a shower. Windows at tub level provide a perfect view of a tranquil garden.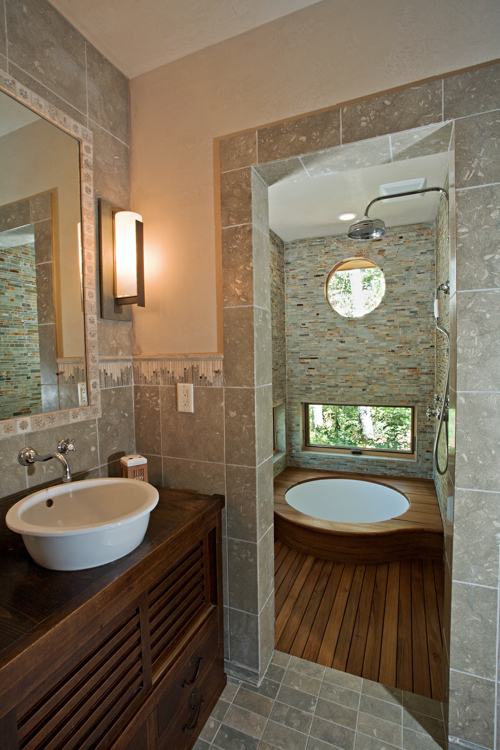 The Steamboat Residence was featured in the May 2010 issue of Architectural Digest. The Tea House was designed and built by Trilogy Partners. For more photos please visit the Steamboat House Photo Gallery.