The home on the Wailua River in Hawaii was haphazardly remodeled after nearly being destroyed by Hurricane Iniki in 1992. Azaya Design and Trilogy Partners joined together to take on this extensive design and build project. The living room had been redecorated in 2007 but it felt a bit dark and separate from the rest of the home. The room needed brightening and more of a traditional island feel. Removing a wall between this living space and the kitchen made a dramatic difference. (Click on photos to enlarge.)
The entry to the home was to the side of the living room. There was nothing dramatic or welcoming about it. It, too, needed to be refreshed.
Ridge Beams and Rafters create a Balinese feel. Koa wood paneling was removed to brighten the room. Koa wood was also removed from the soffits to "lift" the ceiling.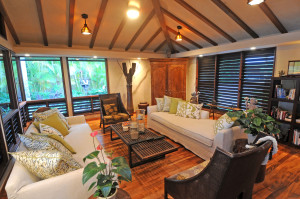 Living Room, left and entry, to the right. The walls were plastered with American Clay plaster and the original Koa wood floors were refinished to beautiful effect.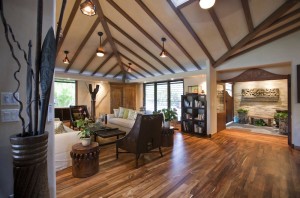 Double doors spread wide. A gate (to the left) separates the entry vestibule from the outside.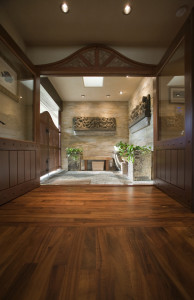 Balinese wall carvings are actually fountains. The floor features broken "Sea Grass" stone tile from Arizona Tile and a river pattern of ebony stone.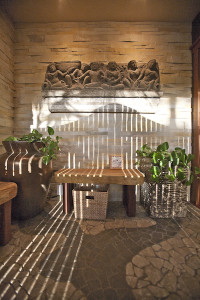 All five spaces, Kitchen, Living Room, Tatami Dining Area, Entry, and Lanai all merge into one fabulous space.
More Kauai Before and After posts to follow. Visit the Kauai Remodel Gallery for more great photos of this fantastic project. Design by Azaya Design and Trilogy Partners.