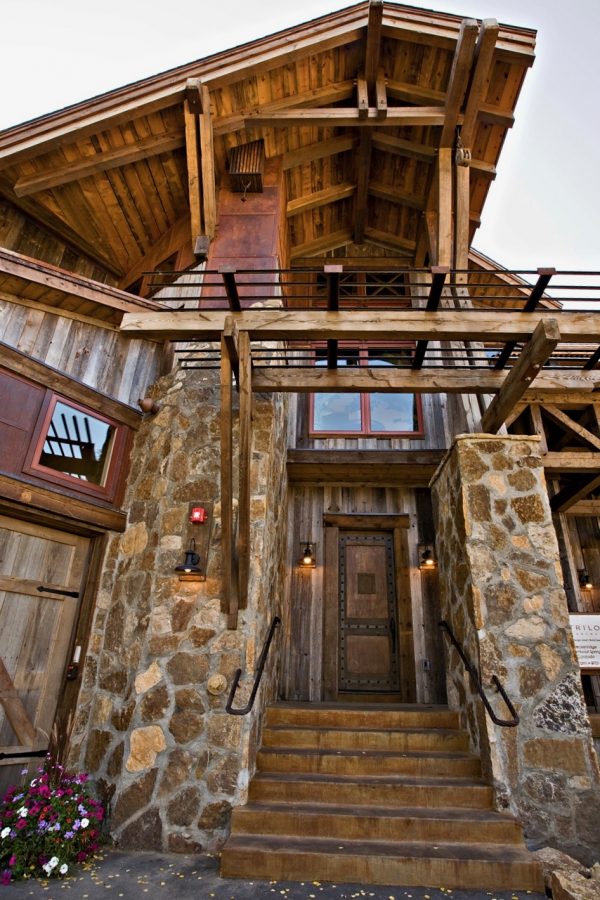 MELISSA RAYWORTH, For The Associated Press | It's a design opportunity that's easily missed: Even the most stylishly decorated rooms often have bland wooden doors with cheap hardware.High-end designers have always made doors a priority, says Brian Patrick Flynn, an interior designer and founder of FlynnsideOut. "If you look at any Fifth Avenue apartment" in New York City, he says, "you'll probably fall in love with their doors because they blend architecture with decorating and make it really special."
But many of us ignore the doors in our homes, not realizing what a difference they can make to the look of a room. Whether your style is traditional or modern, subtle or bold, improving your doors can give your rooms an easy facelift.
Interior designer Emily Henderson, host of HGTV's "Secrets from a Stylist," uses doors as a canvas for anything from wallpaper or stenciling to textured paint or artfully applied gold leaf. Decorated doors can "bring a bit of surprise glamour," she says, and highlight architectural elements.
But know what sort of change you're looking for. "Sometimes you want your door to be disguised" and blend quietly into the space, Henderson says. Other times, you're seeking a burst of color or texture to draw attention.
INFUSING STYLE
Painting with bold or contrasting colors can quickly make a door the star of a space, Flynn says. Try painting an entire door white and letting it dry for at least one day. Then put painters' tape over the areas you'd like to keep as white accents, and paint the entire door another color (glossy black is great, he says). After removing the tape, touch up any imperfect spots with a tiny brush.
Another option that Flynn loves: Have doors upholstered with leather or geometric print fabric to add softness and style. Leather is easy to wipe clean, he says, and "if it ages over time, that only adds to the look."
Bring the door to an upholsterer or do it yourself by wrapping the door in cotton batting and attaching fabric with a staple gun along the sides. Tap the staples with a hammer to recess them, then paint over them in a color that matches the fabric. You can also glue ribbon over the staples to hide them.
BRINGING THE LOOK OF YOUR HOME TOGETHER
"Look at your doors," says Los Angeles-based designer Betsy Burnham. "Do they all match?" If you want a cohesive style throughout the home, try painting every door the same color and accessorizing each with the same stylish hardware.
Burnham usually chooses white or off-white paint for doors and door frames, "but in one house I did all the doors sort of a khaki," she says, "which was more modern." If you want a bolder statement, she suggests painting all the doors a dark shade of charcoal and using oil-rubbed bronze doorknobs.
Henderson and Flynn agree that consistency is important for doors that all face the same hallway. On the sides facing into rooms, you can indulge your imagination. But for the sides facing a hallway, "it could look unintentionally messy" rather than creative if the hardware and paint colors don't match.
EXPRESSING YOURSELF
Doors are a great way to personalize a space, Burnham says. A classic six-panel door has a very different feeling than a heavy wooden plank door with lots of dramatic hardware.
Front doors can be a great place to express your style. A custom-designed door with expensive hardware can have a huge impact and be worth the investment, Burnham says. One option is to "keep the house sort of neutral and do a pop of color at the front door," she says. "We've seen red doors used really well. You could even do a bright teal."
Inside your home, you can use doorknobs and other hardware "like jewelry," Burnham says. Try crystal or chinoiserie knobs, oiled bronze metal hardware or shiny chrome, depending on your style. Lately, Flynn has merged fun and function by putting elaborate door knockers on bedroom doors.
If you want to highlight your home's history or just bring a vintage look to the rooms, consider using doors reclaimed from older buildings. Flea markets and antique shops may have great doors for low prices. They can be accessorized with vintage hardware or new pieces in a vintage style.
But Henderson cautions that installation can be tough. "I've tried replacing knobs," she says, "and it's actually turned into a bit of a nightmare."
Another nontraditional option: Use shiny, metallic paint or cover the back of a door with chalkboard paint so you can leave quick notes, scrawl grocery lists or let kids get creative.
ADDING SQUARE FOOTAGE
If closet doors swing out into a small room, consider replacing them with bi-fold doors or pocket doors. Or remove closet doors entirely and turn the area into open shelving. To give it a finished look, wallpaper the closet interior and hang tieback draperies where the doors were.
Burnham loves this idea, but says it only works if you're someone who will keep storage areas neat. Many clients ask to have doors removed to expose open shelving, she says, "but it's a really special client who can keep that looking great."
One last bit of advice: If you do remove bi-fold doors, don't get rid of them. They make great freestanding room dividers, Flynn says, especially if you paint or upholster them. In a bedroom that doubles as an office, "it's a great way to delineate work space from sleep space."
Source: TheDailyNewsOnline.com
To see more of Trilogy's unique designs and doors, visit our Instagram page.