Trilogy Partners is paving the way for both clients and industry professionals with its revolutionary Project Management Modeling process. Trilogy Design and Build team members have been working closely with Trimble SketchUp team members, building an important relationship between the two companies as they work to further develop the SketchUp based Project Management Modeling process to become an industry standard for the home building industry.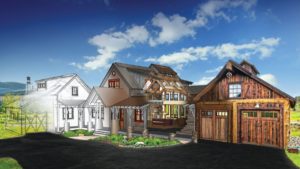 Today is Part One of a Two part blog post release from SketchUp where Director of Marketing at SketchUp Mark Harrison interviews Trilogy Partners' CEO Michael Rath. As Rath says in the interview, "a well executed SketchUp strategy, like the one we are using, not only results in a fantastic model, but also lowers project costs. That's because we resolve construction problems in the model and not on the construction site, and because we embed supervision into the model, we save money." It's a no brainer.

Read more about our Project Management Modeling process and contact us today to start the most creative and empowering process possible to design and build your dream home anywhere in the world!
Welcome to the future of design and build, where seeing is believing.
SketchUp Blog: Project Management Modeling at Trilogy Partners: Part I