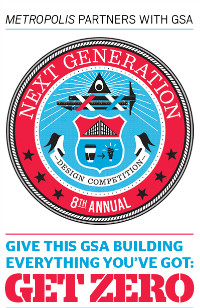 We were excited to hear that Metropolis magazine has partnered with the U.S. General Services Administration (GSA) for the Next Generation 2011 Design Ideas Competition. GSA hopes to achieve Zero Environmental Impact for its 9,600 properties and wanted to challenge the design community to help transform their downtown building in Los Angeles.
GSA's Chief Architect Les Shepherd, says, "Metropolis's Next Generation Design Competition is important because it brings visionary design to real problems. The results: highly innovative solutions to the issues of our day. That's the kind of thinking we need. We're not merely seeking to bring our buildings in line with current best practices, we're looking for breakthrough thinking, and we expect to see it demonstrated in this year's competition."
Susan S. Szenasy, Metropolis's editor in chief notes that, "We're all eager to see how the skills and creativity of this environmentally concerned, community-oriented, and technically savvy generation of designers can make a positive impact on our built environment."
At Trilogy Partners we know a thing or two about building a Zero Net Energy Home and the positive impact it makes on a community. Click here to learn more about our Zero Net Energy Home in Breckenridge.
For details on the competition please Metropolismag.com.