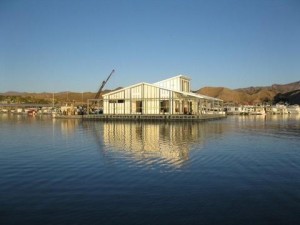 From a distance, the new building at Lake Mohave's Cotton wood Cove Marina looks like any other office building except that a dock leads to its front door instead of a sidewalk.But a closer look reveals that this 2,000-square-foot marina operations facility is unlike any other in the world.
In fact, according to the National Park Service and Forever Resorts, which teamed up on the project, the building is the first floating one in the world to be registered for a gold certification under LEED (Leadership in Energy and Environmental Design), the international rating system created by the U.S. Green Building Council.
After a year in construction, the $660,000, eco-friendly building, which floats in the marina 13 miles east of Searchlight, was dedicated Monday.
"It was a perfect opportunity to do something monumental," said Rod Taylor, regional vice president for Forever Resorts, concessionaire at Lake Mead National Recreation Area, which includes Lake Mohave.
What makes the building so friendly to the environment?
For starters, the decking around it is made from a composite of rice hulls and recycled plastic. The sturdy rice-hull boards come from Arkansas, where the hulls were being disposed in landfills as a waste product.
And, instead of stucco, the exterior walls consist of a waterproof, liquid paste derived from ground-up, recycled tires. The paste, an excellent insulator, was applied to a fiberglass mesh that held it in place while it dried.
"It's like wrapping the whole building in Saran Wrap. It doesn't crack, and you don't have to paint it," said Richard Walker of Errth Flex, the company that produced the material, which is expected to stay intact for at least 50 years.
Builder Ken Couverley of Covey Designs said the construction task was unlike any he has experienced because it took place on water.
"We had our challenges," he said, noting that saws had to be equipped with vacuums to keep sawdust out of the lake.
And, all the materials had to be trucked to the lake's edge, put on a barge and hauled over to a stage of Styrofoam floats capable of carrying the building's weight, 220,000 pounds.
He said the office floor is a plywoodlike material called Nyloboard that is made from recycled carpet remnants with a polyurethane skin.
Joe Piedimonte, corporate controller for Ausonio Inc., a Castroville, Calif., company that coordinated the environmental rating requirements, said the building will be equipped with photovoltaics for solar power.
Combined with special lighting features and windows that allow natural light to enter work areas, the building will have a 40 percent savings in energy use, he said.
Designed by Michael Carlson, of Carlson Studio Architecture, the building uses nonpotable lake water to flush toilets. The waste is collected in a septic tank and pumped to a land-based leachate field.
National Park Service spokesman Andrew Munoz said the idea to build an eco-friendly building for marina visitors came in the aftermath of a windstorm a few years ago that destroyed the previous office and much of the marina.
The project was launched with funding from insurance money and a percentage of profits that Forever Resorts had put in a capital improvement fund.
"We said, 'Why don't we be on the cutting edge to make this as environmentally friendly as possible and set the example,' " Munoz said.
Lake Mead National Recreation Area Superintendent Bill Dickinson said the new office has set the standard for eco-friendly floating buildings. "There's no better place than in a national park to do that.
"It was visionary team made up of private industry and government led by our partner Forever Resorts that transformed this idea into action," he said in a statement.
Source: LVRJ.com