The Kauai Remodel was a "down to the studs" remodel that included a sizable addition. This gave us a chance to redo everything. Kitchen, bathrooms, all surfaces… and introduce some really cool materials as well. Choosing granite for the countertops was really fun because this house was on the Wailua river and we wanted our stone and tile choices to somehow reflect that "state of place."
For the new bathroom that was a second floor addition we chose a soothing green granite called Caribbean Moss. This choice brightened the room and blended well with the Seagrass tiles we used for the shower and wainscot. We also used the Caribbean in a the lower level powder room.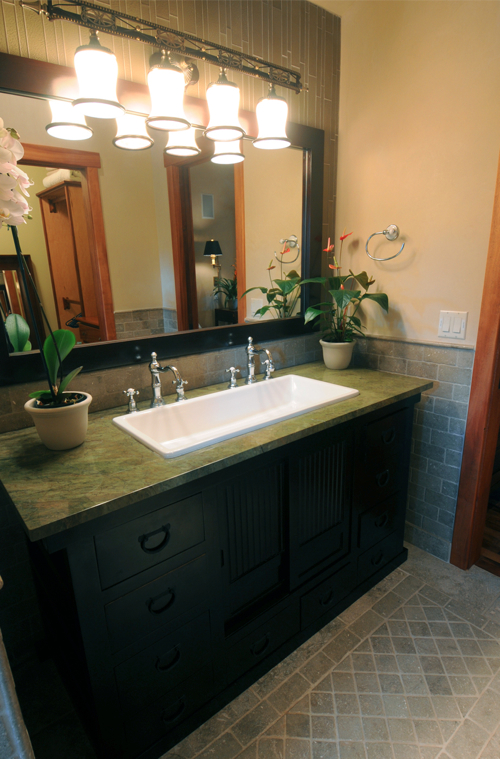 In the master bath the owners had requested that we use a gold Onyx as part of our tile selection. To coordinate with the Onyx decided to go big and bold with the granite countertop material and chose a granite called Tornado. The Tornado had the rich yellow tones of the Onyx in it but also red and black of the antique chinese chest we converted to vanity. So it was a perfect match.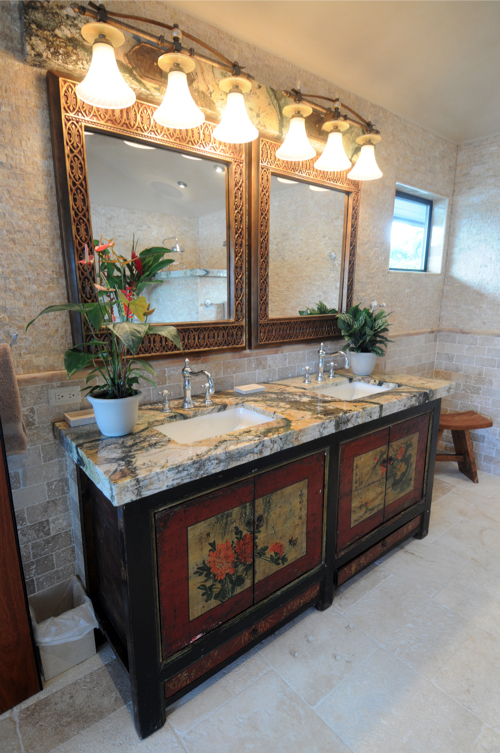 Last but not least, the kitchen. The kitchen has such a prominent role in the house that we knew we had to choose the perfect stone for the counter tops. Finally we narrowed our choices down to just a couple. But still, I didn't think we'd found the perfect granite. Then we stumbled upon the Grande Fossil… named for the fossils imbedded in it. We chose a natural leathered surface. To us, this granite spoke of ancient seas and rivers, and it bended in very well with the cherry tones of the cabinetry and the Koa wood floors.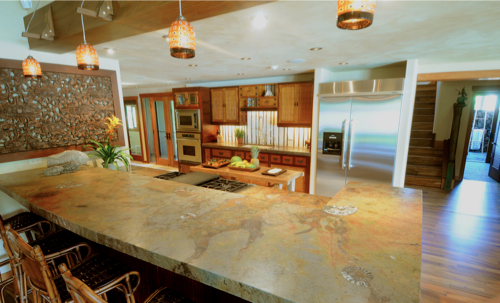 Getting the granite materials shipped from the mainland was a bit of an adventure in itself, but fabrication went smoothly and we were very pleased with the granite choices for the Kauai House. Design and Build by Trilogy Partners and Azaya Design. For more photos of the Kauai Project please visit the Kauai Photo Gallery.