As prices of heating oil, propane, and electricity continue to rise, even more commercial business and residential owners, municipalities and schools are changing to geothermal ground source heating and cooling to create a more sustainable design in their buildings. Geothermal heat exchange systems use only a third of the energy required for propane or fuel and produce no harmful emissions.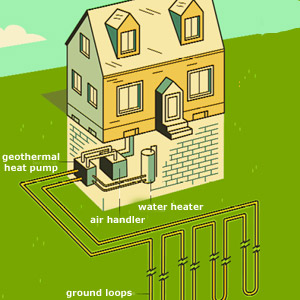 What is geothermal heat exchange?
Geothermal exchange involves harnessing the underground temperature of the earth for heating and cooling purposes. While air temperatures above-ground range from sub-zero to more than 100 degrees Fahrenheit, underground temperature is reasonably constant, varying from no more than 50 to 70 degrees Fahrenheit.
Geothermal exchange systems use heat pumps for heating and cooling due to their extreme efficiency. Unlike HVAC systems, heat pumps move rather than generate heat. However, traditional heat pumps cannot move heat easily when temperatures are lower than 30 degrees Fahrenheit, so they are usually fitted with a supplemental heater. This problem is solved when a geothermal exchange is used in place of air exchange.
With a sustainable design, geothermal exchange systems are more energy efficient, meaning lower energy costs and it's no wonder so many people are switching to this heating and cooling alternative.
Share your thoughts on the system in the comments section below.
Image: This Old House