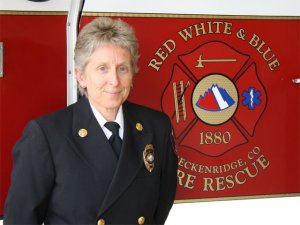 The Breckenridge fire department is boasting an historic first in Colorado — the first female chief of an all-professional fire department.
The Red, White & Blue Fire Protection District announced Friday that Lori Miller has been chosen chief. She succeeds Gary Green, who resigned in May.
Fire officials say Miller is joining just a handful of other women nationwide who head all-professional fire departments, including in San Francisco and Austin, Texas. Miller started her 26-year career at Boulder Fire Rescue in 1985. She worked her way through the ranks to acting battalion chief.
Miller became the division chief of training for the Summit Fire Authority, managed by the Red, White & Blue district. She has been the district's deputy chief of operations since 2006.