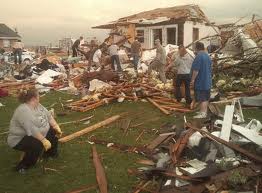 With more than 500 people killed by tornadoes this year, officials in Missouri and elsewhere are expecting growing interest in building codes.
Storm shelters that were common in the 1930s and 1940s are no longer part of the landscape, and fewer homes have basements.
"If anything, we're moving away from having a place to go during a storm," said Steve Melman of the National Association of Home Builders.
In places like Joplin, many residents are taking a second look at storm security after Sunday's tornado.
Melody Ward, her husband and five children took cover in a 3-foot-deep crawl space. Their home was leveled, and most of them were hospitalized.
In their next home, she said, "I will do without a gourmet kitchen so I can have a basement."
Friends and family paid tribute to victims of the Joplin tornado Friday, beginning the grim task of burying the dead as officials said the death toll had risen to 132.
Some officials say changes are in order. In Iowa, where most communities require buildings to withstand at least 90-mph winds, experts want more.
"It's not sufficient to withstand the kinds of storms we've been seeing," said David Brown, a building official for Ames, Iowa.
Source: Star-telegram.com