Building Information Modeling and Project Management Modeling might be viewed as the same thing, heck they sound kind of similar, right? They have similarities, sure but to put it simply, the main difference between the two is that BIM is for the big guys doing huge multi-million dollar projects, and PMM is BIM plus project management for the rest of us.
"BIM is for the big guys, PMM is for the rest of us."
BIM is used for large projects: skyscrapers, bridges, huge multi-family condos in large cities. But there was no residential BIM solution, so we needed to create one ourselves. We had to invent our own process that works for every stakeholder in a project, especially the client, with an added bonus of project management (not an aspect of BIM), and so Project Management Modeling was born.
"PMM was born out of a need for a simple client-focused project management tool."
We wanted everyone to be on the same playing field and to serve the client first and foremost.
Project Management Modeling uses a geo-located 3D model of the home or structure to be built that has data of every single element needed to create the model in real life, even down to the interior finishes. We like to say that we build the structure twice, once in the computer and then again in real life. PMM allows us to show clients design details like the tile layout of an entire room in a 3D model as opposed to a piece of tile on a sample board, we vet the structure for build-ability to find issues and fix them before we ever break ground. PMM saves time, saves materials, saves money.
The PMM model is then used for project management. Framers can put on Virtual Reality glasses to see how the structure is framed, masons look at the model for stone layout, electricians can measure the model to see exactly where their electric box needs to go, plumbers know where to run lines to. All of this equals less supervision time and less mistakes on the job site. Again, cost savings every step of the way with PMM. Our estimating is so precise because every piece of the home or structure is in our PMM model. We estimate down to the last door handle so there are no surprises for our clients.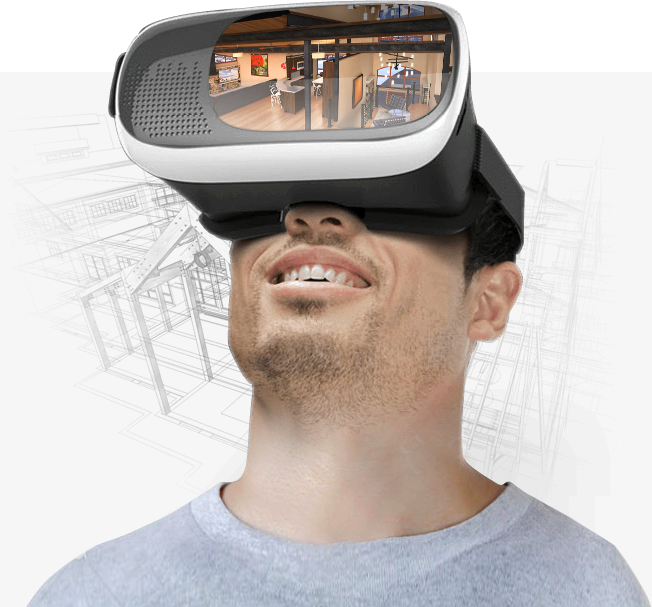 What does PMM do that BIM does not?
We took the best aspects of BIM (3D modeling, vetting a structure before building, having all subcontractors on the same page) and applied that to PMM. Then we kept going to add in project management and interior design. This saves large amounts of money on supervision costs and eliminates the unknown or a designer saying "trust me" when it comes to design decisions. It is BIM plus MANAGEMENT!
"Working with Trilogy Partners and their Project Management Modeling process I can be part of the design process and a decision maker in how the design looks and works, which makes it easier to fabricate. With other contractors I simply put their design into action which is not always considered from a welder's point of view. Having my input be part of the process ensures a high-quality finished product that I am extremely proud of." Brian Dunphy, Ark Fabrication
What about Structurals and MEP?
We are now putting structurals into our models. MEP (Mechanical Electrical and Plumbing) is not a complicated issue in single family residences. It will be in the commercial project we do and so we will include it there.
What is the biggest benefits to using PMM? 
Interiors and finishes. Data management. Not having to traipse around with client from one design store to another or deal with small samples and risk management. Using PMM for estimating and having our subcontractors use the model.
Are there any problems that face PMM?
The only problem we face is that a lot of our subcontractors don't own a computer or iPad where they can view our 3D Model but where theres a will there's a way. We incorporate workarounds. SketchUp Mobile Viewer is helpful and subs can use their smartphones. For something like tile we print out photos from our PMM model and hang it right in the room the tile is to be installed. A picture is worth a thousand words so our subs have a few thousand words of instruction around them.
What about geolocation? Can you do this in PMM?
Absolutely. It empowers our clients to know the exact view from their kitchen sink or master bedroom. We also use geolocation for solar studies so we are sure to optimize the sun's warming effect in the winter and minimize that in the summer.
 "PMM is a solution for little guys and single family residence builders for whom BIM doesn't work."
Why doesn't BIM work for the little guys exactly?
BIM is beefy and expensive to use. It was created for huge projects like the Freedom Tower in NYC or large bridges. It is expensive for a small contractor to employ on their projects. If BIM worked for us as a single family homebuilder then we would be using it. But it didn't which is why we created Project Management Modeling.
Why should the industry be using PMM?
Lower costs, less mistakes and more efficient design are just a few of the reasons. If we can lower the cost of housing throughout the country and the globe then more people can afford housing. That is the big goal, to enable those who want to own a home to do so. We also want to be kinder to the the environment by having less waste. Houses can be designed better and smarter which means more efficient sizes, less heating costs, better environmental impact.
We use PMM because it works and builders love it, subs love it, designers love it. But most importantly our clients love it. That is reason enough for us.