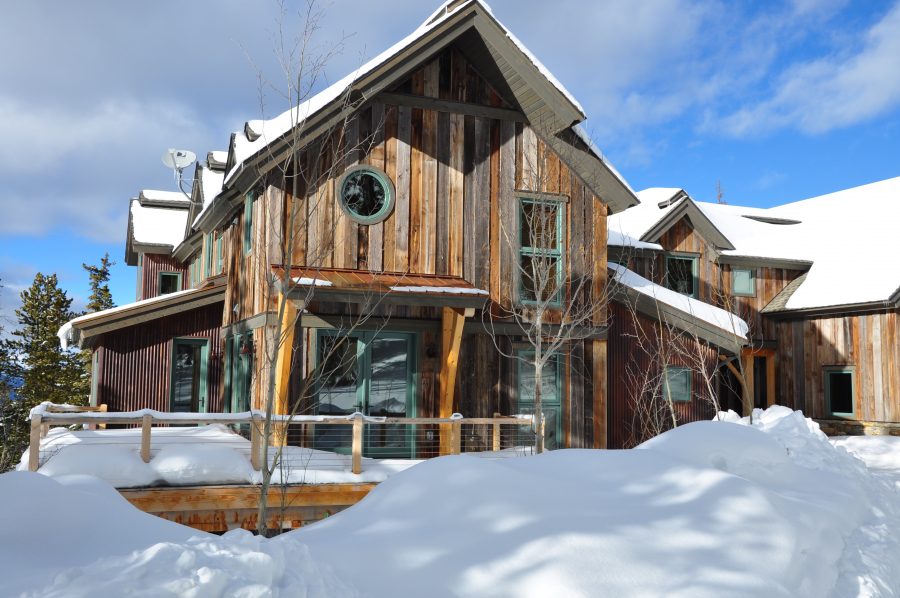 by Leo Wolfson| brought to you by Breckenridge Building Center
Fall is a time of transition and preparation in the High Country. As the leaves change color so turn the thoughts of Summit County residents to the winter (for better or worse) and six months of snowfall to come. This arctic onslaught is tough on almost any home and a few precautions need to be taken to ensure that yours is ready for winter's grip.
Pipes: Preventing your pipes from freezing is an extremely important, cost-saving measure that must be taken before winter hits. Surrounding them with insulation or heat tape does the trick, as will heating the crawl space where the pipes are located. Jason Kompf of Antique Design Carpentry & Remodeling sees his fair share of poor winter prep in the High Country. "Wouldn't be uncommon to have 20-something houses and (they are) flooded from         frozen pipes every winter," he chuckled. Kompf recommends taking care of pipes no later than Thanksgiving.
Heating Systems & Furnaces: The last thing you'd ever want is to discover is that your furnace has given out when that first cold snap rolls around. Test your furnace now to make sure that it's running effectively, which also helps with the frozen pipe issue. Often second-home owners will find out that their heating system has given out upon arrival, making for an inauspicious start to their vacation.
Close-up surfaces: Make sure all exposed wood is sealed up or caulked, which includes keeping paint up to date. "People neglect to paint up here. Every house should be painted on a three- to five-year cycle due to the UV rays and the sun and the weather," explained Kompf. The extreme High Country elements do a number on the exterior of a house and the longer you wait to get it repainted the greater chance there'll be wood damage. "I see that a lot — people calling me, they want (me to) repair siding or fix something. They haven't painted in 15 years and it's sunned," said Kompf with a chuckle.
Keeping windows properly sealed is also important. This eliminates drafts and helps save on energy bills.
Gutters and other drainage fixtures: Make sure all leaves and other debris are cleaned out of your gutters. If you wait till spring it will likely be a muddy, moldy mess and could be harmful due to the weight that's built up.
Decks: Kompf advises using a clear deck sealer on wood decks in the fall. The sealer protects from water damage and will help keep the color longer. Clean a deck frequently before applying the sealer and voilá! You'll have a protected wood deck that even Old Man Winter can't touch. If thinking of building a deck for your home this fall, consider a composite material, as it's cheaper and less sensitive to nature's elements.
The roof: As winter begins to ramp up, keep an eye out for the amount of snow that collects on your roof. Colorado powder may be light and dry but that hardly matters when 2 feet or more collects, often causing ice dams and structural damage. Kompf recommends shoveling a roof at least once a winter, but if Old Man Winter strikes with an early fury, a trip up to the top deck might be necessary in December.
"No matter how well your roof was done, water can get in there," said Kompf. Before winter arrives look for loose or broken shingles. These small trouble spots can become large problems during the winter. On the interior, look for stains or damp spots in the crawlspace or top ceiling of your house which can lead to mold and roof damage if not taken care of.
Beware of the south: The south side of a structure may receive the most sun during the winter but this doesn't mean it's less exposed to the elements. The location actually creates a vicious melt/freeze cycle that chips away at paint and deteriorates the wood. Extra attention should be paid to this side regarding all previous preparations listed.
Article from Summit Daily courtesy of Breckenridge Building Center | 13445 Hwy. 9, Breckenridge (970) 453-2372 |http://www.breckenridgebuildingcenter.com