Are you trying to build a bathroom that's a bit more environmentally friendly? If so, then don't ignore what your sinks are made out of. The following are a few examples of eco-friendly bathroom sinks that you can use as inspiration:
Salvaged bowls – Re-use any type of bowl. All you need is a bowl in which a hole can be drilled on the bottom to connect it to a drain. For example, an old cast-metal basin.
Recycled rubber – For a truly unique option, use a sink that has been built out of recycled rubber tires that were melted and purified before being turned into a sheet that can be stretched across a basic frame.
Recycled copper – Copper is a great choice for a bathroom sink due to its antibacterial and antifungal qualities. Just make sure to pick a sink made out of recycled copper.
Recycled aluminum – If you're going for a modern bathroom design, then recycled aluminum is a fantastic option. Not to mention that there is plenty of aluminum available to be recycled into a sink.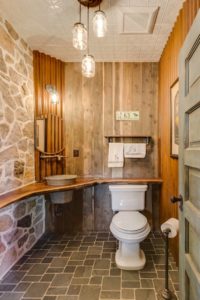 These are a few eco-friendly bathroom sinks. Contact us at Trilogy Partners for more green building information.