Doing our part for the environment by adding "green" elements to a home need be neither unattractive nor expensive. In fact, the whole purpose of green living is to conserve resources and therefore save you money.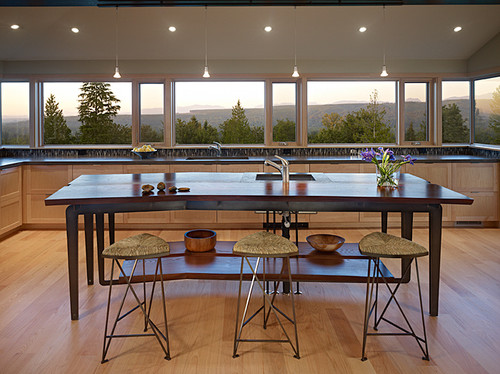 Modern
Seattle Kitchen by Finne via Huzz
Here are just some of the many ways to embrace a green home style:
Energy-Efficient Lighting: This particular technology has really come into its own in the past decade. There are now energy-efficient CFLs for almost every purpose and they come in a variety of wavelengths or "colors" that will satisfy even the most discriminating homeowner.
Water Conservation Devices: Everything from outdoor catch basins for watering your lawn to low-flow toilets and showers can help conserve water and lower your monthly utility bills.
Repurposed Materials: While known to fans of "industrial" style for years, the use of recovered brickwork, mantels and other salvaged objects, repurposed materials add a rustic charm while also keeping costs down when remodeling or building new.
For more information on these and other interior design topics, please contact us at Trilogy Partners.