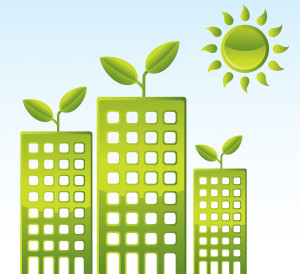 As the New Year approaches, you are probably wondering what kind of design trends are going to develop throughout next year. One design trend that is sure to continue is the use of sustainable design. Both commercial and private buildings will continue to use green design elements in their construction to help limit the amount of damage they do to the environment as well as to help be as energy efficient as possible.
The value of green building has become more obvious to both homeowners and commercial building owners. In 2005, green building was worth around $10 billion. This number has grown to an estimated $85 billion over the last year and is projected to rise to around $98 to $106 billion. People understand the value of being green. Not only are they benefiting the environment, but they are becoming more energy efficient. This allows them to save on energy costs. According to the Dodge Construction Green Outlook report conducted by McGraw-Hill Construction, 44% of all of next year's construction is expected to use sustainable design.
The use of sustainable design will continue to grow in popularity over the next year due to the associated environmental friendliness and energy savings.
Source: Construction.com, Google Images