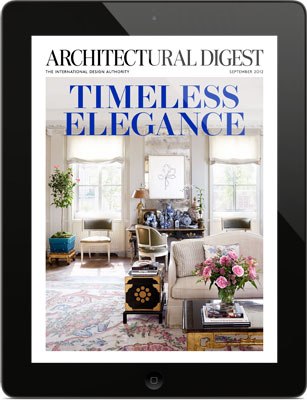 In today's technology-crazed world more and more people are getting their news on their readily available tablet.  Now you can also get the latest in design trends and interactive floor plans with the flick of your finger. Architectural Digest is bringing their incredible library of inspirational designs and editorial features right to your iPad, Kindle Fire and NOOKTablet.
"Developing the tablet edition of Architectural Digest has been so exciting, because it's enabled us to completely transform our editorial features for a new platform," says Margaret Russell, editor in chief of Architectural Digest magazine. "This isn't a basic PDF replica of our pages—we've redesigned our September content specifically for the iPad and other tablets. Our readers can experience the lush photographs AD has always been known for, but the tablet edition also offers exclusive images, interactive floor plans, and special videos. Now readers can access the world of AD in print, online, and on the tablet—literally anywhere and at any time."
The digital version is FREE to current print subscribers and just $5.99 to download the latest issue for non-subscribers. To learn more about this great new Architectural Digest App for your iPad, Kindle Fire and NOOKTablet, head on over to architecturaldigest.com.