Rustic! You might think of this word as an adjective to describe Colorado mountain homes, but did you know it's also the name of an American architectural style of the early twentieth century? It's a style simil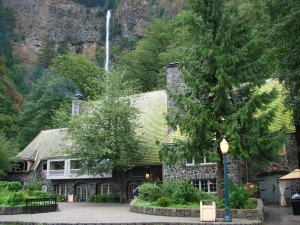 ar to one of its fashionable predecessors, the Shingle Style.
Rustic Style architecture is characterized by the following exterior design features: over-hanging, steeply sloped roofs mirroring surrounding mountain features, and easily shedding snow; stone foundations, shingle roofing materials; and log, wood plank and shingle wall materials.
Interior and floor plan features include an informality of design and spatial arrangement, large stone fire places with stone slab fireplace mantels, and big rocking chair porches. The Rustic Style building is sited naturally to fit into the landscape in an informal and functionally efficient manner.
A few of the best examples of the style are located in US state and national parks: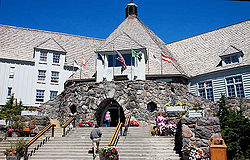 Multnomah Falls Lodge (1925, A. E. Doyle, Troutdale, Oregon) is a beautiful example of this asymmetrical, steep flowing roof, wood and stone architectural style.
Timberline Lodge (1937, US Forest Service Architects, Oregon) with its stone foundation and steep roof lines, is a classic Rustic Style building of the period. Buffalo and bear head carvings decorate the exposed eave ends.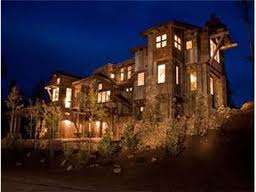 A contemporary Colorado mountain home example that is suggestive of the early American Rustic Architectural Style was designed by Trilogy Partners. Known locally as 'Calecho', the architects describe the Calecho design style as follows, "All elements combine to form a symphony that embraces mountain history and modern mountain living."
If you are fond of the Rustic Architectural Style and planning to building a custom home, please contact Trilogy Partners of Breckenridge, Colorado at 970-453-2230 for information about their custom home design-build process.
Photo Sources:  Trilogy Partners and Wikipedia