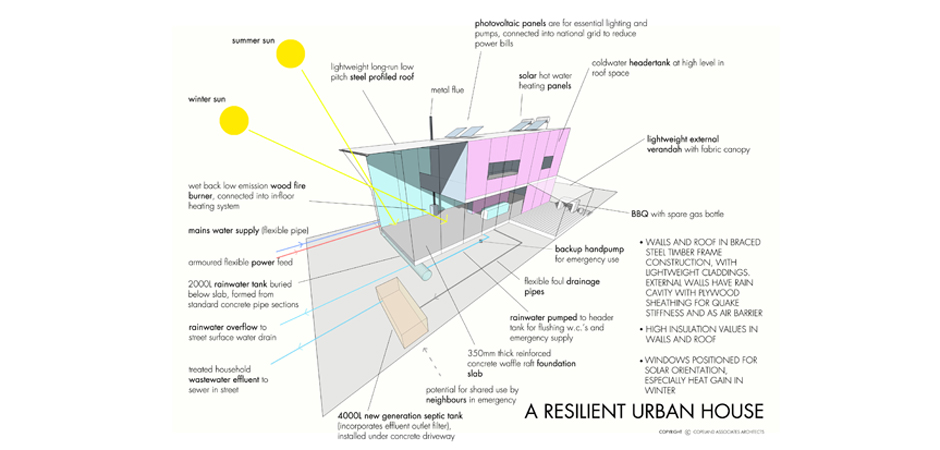 By Chris Barton | "It is not enough to design purely for life safety," says Auckland architect Barry Copeland. "A resilient house, as well as surviving structurally through an earthquake, needs to continue its function as a family home."
In response to the Christchurch earthquake, Copeland, working with seismic engineer Barry Davidson and wastewater systems engineer Ian Gunn has developed a concept design for a house providing a high degree of self-reliance in terms of basic essential services – water, energy, drainage.
By keeping the building shape a compact two-storey form, Copeland says he's able to offset the increased cost of some the high tech components needed for self sufficiency.
To cope with the effects of liquefaction, the building is supported by a deep reinforced concrete raft foundation slab. The steel and timber framed superstructure is securely bolted to the foundations, braced seismically and sheathed in plywood. The result is a rigid box structure, highly resistant to ground forces.
The lightweight cladding system (such as profiled metal sheeting or timber weatherboards) incorporates a rain cavity and is fixed onto the plywood sheathing, which also acts as a rigid air barrier.
The roof, supported by light steel or timber beams is also lightweight, and designed with a minimum of joints. Davidson points out that heavy and potentially unstable materials such as bricks and clay tiles are best avoided when designing for earthquake resilience.
Rainwater is collected from the roof and used for flushing toilets and for general supply in an emergency. A backup hand-pump is installed to fill the header tank during a prolonged power failure – providing water pressure for the home's taps.
Mains water supply will provide for general domestic use at normal times and top-up for the rainwater storage tank in dry weather.
Photovoltaic panels on the roof produce a small amount of electricity that can be connected into the national grid and sold back to the power company. But in the event of power outage, these can generate enough to operate essential lights and water pumps.
Other sustainable features are solar hot water heating panels, piped in-floor hot water heating systems, and a low-emission wood fire burner with 'wet-back' water-heating capability.
The fundamental wastewater component of the installation comes from Gunn's long experience – a high performance septic tank system with an effluent outlet filter. The very low solids content of the treated effluent from this system will flow to a modified flexible sewer in the street.
In emergency if the street sewer becomes unserviceable, treated effluent can be diverted temporarily to stormwater drainage. So efficient is the system that a community sludge pump-out service to remove stabilised solids is only required every six to eight years.
Source: NZHerald