We talk about the use of reclaimed building materials on our blog a lot, and while this may seem like a new concept, making use of salvaged materials is nothing new. Since humans began living in built structures, using and re-using various building materials has been a pretty common practice. According to the design blog Networx, today there is a renewed appreciation for these old-world methods, as well as the desire to be environmentally friendly.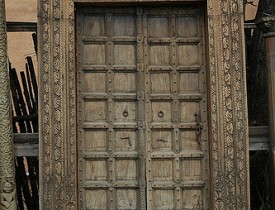 Salvaged doors are a great reclaimed material to use in the construction of a new home. They provide a great deal of character to your home. Just think of the story a beautiful craftsman-style door could tell, with unique features like stained glass and architectural details. A salvaged door in good condition is a true piece of art and can add a lot of beauty to your home.
Would you consider adding a salvaged door as a design element in your home? Share your thoughts and ideas with us!
Image Courtesy of Anyajazz65 on Flickr via Networx.com.