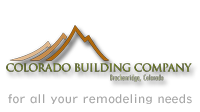 Colorado Building Company, sister company to Trilogy Partners, was founded in 2007. Whereas Trilogy is a Design and Build construction company, Colorado Building Company is construction management/general contracting company. CBC specializes in projects where design oversite is the parameter of architects and interior designers not working under the design-build model. Trilogy Partners uses CBC for general contracting services.
The team behind CBC has more than half a century of combined construction experience. CBC is experienced in the construction of high value custom homes.  But smaller projects and remodels receive the same attention to detail and customer service as large projects. CBC also has a commercial division to service non-residential projects.
CBC leads the way in sustainable building and cutting edge construction technologies. CBC built the first zero net home in Breckenridge. CBC leadership is experienced in Structural Insulating Panel construction, advanced green framing technologies, timber frame, log, and conventional framing. CBC is committed to the highest level of quality and customer service.