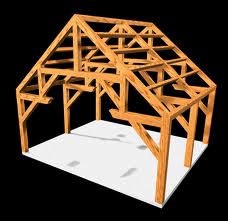 Timber Frame Construction, compared to stick built or conventional framing, is a very sustainable building technology. Unlike stick building, the materials used in a timber frame will inevitably be reclaimed and recycled. In fact, many timber frames are made from reclaimed and recycled frames from barns, bridges, warehouses, and factory buildings. An argument is sometimes made that Timber Frames use old growth lumber. In fact, some do. But Timber Frame homes typically last much longer than conventionally framed homes. Timber Frames in Europe and Asia are more than 1000 years old. One way to preserve old growth forests is to build homes that last a lot longer so fewer trees will be cut for construction purposes. One other fact about Timber Frames is that they are frequently build from fast growing farm raised southern yellow pine which is kiln dried. Farm raised Southern Yellow pine is a renewable resource.
Further supporting Timber Frame as a sustainable building method is that Timber Frame combined with SIP panels provides a highly insulated, tight structure that uses much less energy for heating and cooling than conventionally framed structures.
A Timber Frame home, though generally more expensive to build than a conventionally framed home, also brings with it the beauty of posts and beams, open floor plans and soaring ceilings. So Timber Frame construction is not only good for the planet, but beautiful as well.