From earlier writings we described the environmental commitment of Breckenridge homeowner Kyle M. to build an 8,000 sq. ft. luxury zero energy home. We continue today with the inside story of this net zero home. This writing focuses on the renewable energy systems chosen including solar electric and geo-exchange, along with an integrated lighting and electronics program that dually functions as an energy management system. Once Ambient Energy produced the energy modeling for the 8,000 sq. ft. home, the engineering and building team went to work to choose materials that would conserve as much energy as possible. Step one: Design and build a tight well-insulated energy-efficient home. Step two: Incorporate renewable energy and smart-home control systems geared to energy conservation.
The environmental heating and cooling solutions for the Breckenridge Timber Trail home demonstrate a high degree of integration among experienced professionals not unlike the workings of a well trained sports team. This team's goal: design and install an efficient geo exchange heating ventilation and cooling (HVAC) system to provide 100 percent of the home's space heating needs with a natural gas boiler backing up system. First up to bat was Barry Engleman of George T. Sanders Companyof Silverthorne. George T. Sanders did the heat calculations for the home to determine how much radiant floor tubing was needed to keep the house warming properly even down to 20 degrees below zero. Engleman designed the layout and Tekmar control systems that control the radiant floor hydronic system. Next to bat was Eric Atcheson of E.W.A. Mechanical Inc. based in Silverthorne. E.W.A worked closely with Engleman, and was responsible for the home's plumbing, heating, and automated Tekmar control systems. Following Engleman's layout and his own expertise, Atcheson installed the plumbing system for domestic hot water production, radiant floor heat tubes to supply heating for the home, and the optional snowmelt system for the driveway. The house received two high efficiency boilers that integrate with the ground source heat pumps and ensure the home's comfort on the coldest of Breckenridge nights. Our third and fourth batters were Jim Dexter from Summit Professionals of Silverthorne and Bob Major of Major Heating and Cooling in Wheat Ridge. The two companies managed the installation and integration of the ground source geo exchange heating and cooling system, heat pumps, air handling and humidification. Summit Professionals designed systems and duct work to provide a fresh supply of air to the home and comfortable environment. Dexter installed an integrated air handling, humidification and Energy Recovery Ventilator which gives the homeowner complete control over the indoor environment. The Breckenridge home receives 100 percent of its space heating and summer cooling from a geothermal heat pump system. Geo exchange uses the constant 50 to 55 degree temperature of the earth to warm the home when it is cold outside and to cool the home on hot days. Before excavation of the home, the geo exchange wells were drilled. Major Heating and Geothermal in conjunction with Can-America Drilling Inc., installs a closed loop system consisting of 19 boreholes, each 300 ft deep, around the foundation and under the driveway.
Solar PV System
SolSource, Inc., a solar engineering and installation firm based in Denver, was engaged to design and install the solar photovoltaic system, through their partnership with Breckenridge-based Colorado Building Company.
The Making of Breckenridge's First Custom Net Zero Home
Dave Lyskawa, Sol-Source VP of Residential Sales, met the homeowner's goal of designing a solar electric system that provides 100 percent of the home's electrical needs. For phase one, SolSource installed a 9.89 kW solar PV array. The solar energy installation consists of 43 SolarWorld 230-watt panels with black frames. SolarWorld modules are 100 percent manufactured in the U.S. The solar panels are connected to Enphase micro inverters and an Enphase energy management unit which provides 24/7 system monitoring. Enphase increased the energy production of the solar array by maximizing the energy generated by each individual solar panel. SolSource also selected Enphase to allow for system expandability and is pre-wiring the home for an additional 7 kW system in phase two. The energy produced by the 9.89 kW array prevents an estimated 29,907 pounds of C02 from entering the atmosphere every year.
Lighting and Energy Management Systems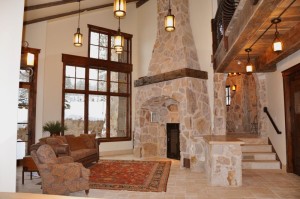 A final component to creating Breckenridge's first custom net zero home was integrated lighting, energy management, and whole house automation system. Players were Chad Ballard of Paradigm Systems, Inc. based in Denver using the Vantage Control system and Daniel Stern with Electronics by Design in Broomfield. All lighting fixtures installed were evaluated for functionality and energy efficiency. "We focus on correct color, intensity, dimming and usage of the lights required in a luxury residence, while ensuring that the house is performing at the minimum energy consumption," said Ballard. The Vantage system was chosen for its ability to provide automated and remote control of the home's lights, HVAC, shades, fans, audio/ video and home theater distribution systems, security through sensors, timers, keypads and energy consumption meters. Lights in high use rooms were programmed with occupancy sensors that turn on when some one enters the room at a set intensity and turn off when motion is no longer detected after a set time interval. This simple house-wide lighting/motion sensor system enables the homeowner to masterfully manage the home's electricity usage and significantly conserve energy. This Breckenridge residence is likely the "smartest home" in town. If homeowner Kyle wants to, he can press a button on his cell phone as he is driving up to his mountain chateau and engage a "Welcome" mode. With one button the lights turn on, the blinds go up, the garage door opens, and music begins to play.