We worked with Joe Sundquist of Sundquist Design Group in Conifer to reduce the need for additional energy in the Breckenridge's first custom Net Zero home.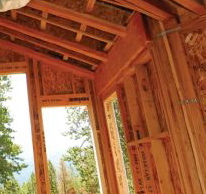 "To address the owners and builder's desire to make this building energy efficient, we wanted to minimize unnecessary framing, while allow for increased insulation wherever possible," Sundquist says.
We used manufactured lumber products purchased through the Breckenridge Building Center.
• Heavy timer members create the structural framing system.
• Exposed wood beams function as structural support elements.
• Boise Cascade engineered wood products typically uses only half of the wood fiber compared to ordinary lumber. The increased stud spacing and greater insulation coverage, which allowed the home to have about 30 percent more insulation.
Next week we'll be focusing on the insulation and other areas of the home.