To follow up on our invitation to join us at Saturday or Sunday's free seminar about Breckenridge's first zero energy luxury home, here's a few more details about a zero energy home.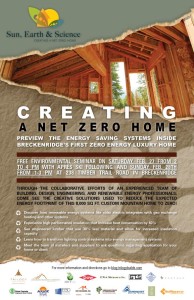 A Zero Energy Home produces its own energy—as much or more than it needs, according to the U.S. Department of Energy.
It combines state-of-the-art, energy-efficient construction and appliances with commercially available renewable energy systems.
The Department of Energy identifies four major advantages:
Improved comfort: An energy-efficient building envelope reduces temperature fluctuations
Environmental sustainability: The home saves energy and reduces pollution
Energy security: A home that produces energy protects from spikes in energy prices
Reliability: The home can be designed to continue functioning even during blackouts
We look forward to seeing you this weekend!