Wood adds natural warmth and texture to any room and it's used extensively in kitchens and bathrooms by Trilogy Partners.
Wood countertops and butcher-block kitchen islands have always been interior design favorites.  Wood top kitchen islands can also be combined with stone or tile for versatility in food preparation.
Maple, cherry and other hardwoods need to be sealed and cleaned but they work well in areas where water and other liquids are used in food preparation and cleaning.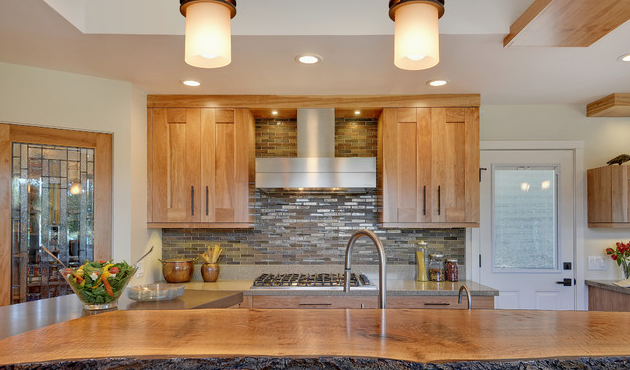 Wood countertops can be varnished to a high shine where water beads up on the surface.  They can be treated with various products that include tung oil, lemon oil, linseed oil and beeswax. An under-mounted sink in the bathroom or kitchen allows water to drain into the sink from the wood countertop.
The countertop can be smooth and elegant or rustic and weathered. A weathered countertop works well in a bathroom or wash area that is part of a mudroom.  The wood is actually recycled from a barn or other building.  It is sanded, smoothed and varnished or treated to avoid splinters.
Photo Source: Houzz