Almost everyday we hear news of depleting rainforests and the effects our actions have on the environment. An easy way to stay green in your home design is to use reclaimed lumber instead of virgin wood.
A few reasons why you should incorporate reclaimed wood into your sustainable design include:
Keeping forests alive. Forests are responsible for turning carbon into oxygen helping, to an extent, to offset the carbon that is released into the atmosphere everyday. In addition, many ecosystems rely on these forests to stay alive.
Reclaimed lumber can be up to 40 points stronger on the Janka scale than virgin wood. Most reclaimed lumber comes from older construction sites where older wood was used. In comparison, virgin wood is usually taken from first-generation forests.
Where to use reclaimed wood:
Remodeled bathroom. While builders warn against using virgin wood in bathrooms, reclaimed lumber can withstand moisture levels and is suitable for furniture or veneer panels.
Wood floors. Reclaimed wood floors look identical to those made from virgin wood. They are highly attractive, durable, and easy to maintain in comparison to carpet, which retains to dirt and moisture.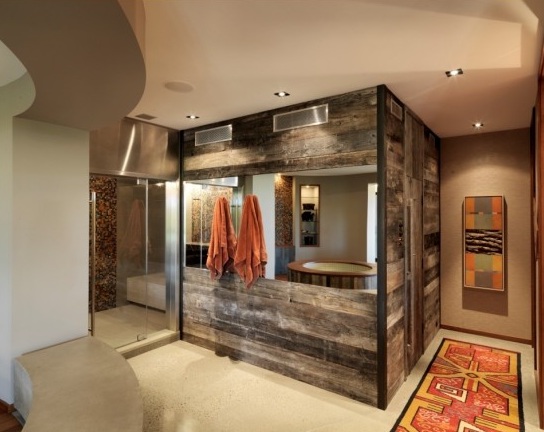 Contact us at Trilogy Partners for support in creating and building a sustainable design using reclaimed wood.
Image: houzz